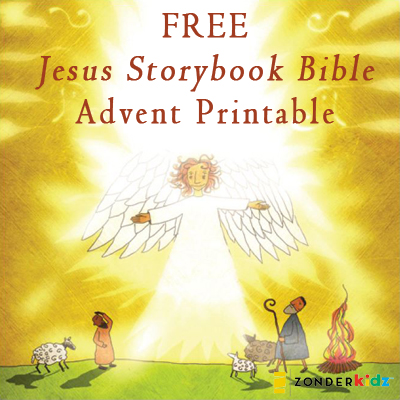 One of my favorite holiday traditions is counting down to Christmas with an Advent calendar. My family has tried a lot of different Advent calendars over the years – Lego ones, chocolate ones, and ornament ones – but this year I'm excited to use the FREE Christmas Bible Verses advent calendar printable from Zonderkidz, based on illustrations and readings from The Jesus Storybook Bible.
Zonderkidz is making this Advent calendar printable available to you for FREE through FaithGateway!
Get your Free Download!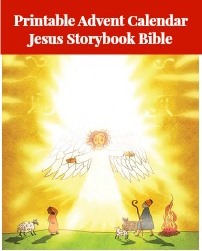 I love that this Advent Calendar printable gives me and my kids a teachable lesson, scripture and reading plan from The Jesus Storybook Bible for each day as we count down to Christmas and focus our attention on God's love and the gift of Jesus. (The bible verses and suggested reading are printed on the back).
This Advent calendar of Christmas Bible Verses is a lot like the Jesse Tree Advent calendars. Basically, a Jesse Tree Advent tells the story of God's plan for salvation, starting with creation and continuing through the Old Testament to the birth of Jesus Christ.
The name Jesse Tree represents the genealogy of Jesus – Jesse is the father of David, an ancestor of Jesus - and comes from from the prophecy of the coming Messiah in the Bible, Isaiah 11:1:
A shoot will come up from the stump of Jesse; from his roots a Branch will bear fruit. (NIV)
This Free Advent calendar printable is made up of 24 days. Each day you take one of the cards, read the corresponding Christmas Bible Verses on the back, then hang it in some way around your house. Included in the printable are instructions for making the calendar — it's super easy.
Take some time to talk as a family about the perfect place to hang your calendar. Below are two simple options for displaying them. I'm not particularly crafty, but I'm sure if you're the creative type you can come up with even more, including options for turning the cards into ornaments for display on a tree. If you'd like to share your Advent calendar display with us on social media, please use hashtag #JesusStorybookAdvent and I'll add links to your posts here on this blog.
Get your Free Download!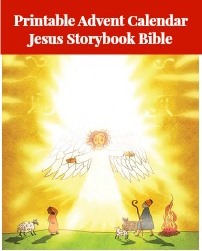 When I was a Sunday School teacher for preschoolers, The Jesus Storybook Bible was one my favorite storybook Bibles to read to the little ones, and my 7 year-old and 10 year-old still enjoy it today. I hope The Jesus Storybook Bible Advent calendar printable becomes a treasured tradition for your family year after year!
Your Turn
Do you have an Advent or Christmas countdown tradition? I'd love to hear what you do with your family!